Actress/actors goes completely Naked in Nollywood epic Movie (Viewers Discretion)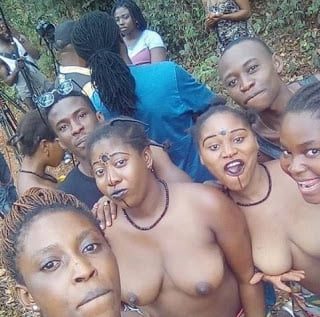 Christian John (aka Krissyjoh Chris), CEO of Krissyjoh Pro­duction, has revealed why the women in his new flick bare the breast. According to him, there is no place in the Bible where God prohibits making epic films with nude women and girls.
"I am just trying to bring back the ancient tradition where women dress without covering their breasts in public," he said.
One wonders how he got the cast of the movie but he revealed that it was through audition like every other movie. "I got them through audition. They are most­ly upcoming actresses who just want to feature in a movie. They are not doing it for money. It took me time to convince them to join the cast.
"Africans are known to have a sense of pride when it comes to showing off certain parts of their bodies like the breast," he stated, adding that the actors are happy with their role and what comes with it.
Many have criticized it saying the movie goes against the ten­ets of godliness. But he disagreed with his critics saying "No, not at all, it is just a fiction. I don't think it is a sin for us to show the world our ancient stories through plays. To me, not even did the Holy Bi­ble stop us from shooting mov­ies with half-nude actresses and actors when telling epics. As you may see, it is just an imaginary story," he expressed.
Some people even think the National Film and Video Cen­sors Board would not approve the movie but he said, "Approved or not, my movie will still sell. Even raw porn movies sell, not to talk of my traditional movie. If Nigerians do buy and watch real porn movies, why do you think they would not buy mine? It is to be sold in Nigeria and outside the country. I believe the movie will arouse the interest of a lot of people, based on the story line. So, I know a lot of people would buy it so as to watch the movie.
"I don't feed from the Government, If they are ready to ban my yet to release movie let them pay me all what I spent during the production with additional 5 Million Naira Only…
"Spartacus, Rome, Pirate, Forbidden Fruit etc which contains raw sex:' scenes sells everywhere in Nigeria and is not banned. My interesting and a must watch nude epic film that contain no sex:' scene is what people are criticizing, the government are saying I will corrupt the whole Nigeria if I release the movie. My question is, is Nigeria not already corrupt?
"Don't be surprised, these ([email protected]@.d) actresses will one day become an award winning Nollywood stars… Mark my word!" Chris said.
Set in Nsukka, Enugu State, the movie which is still at pro­duction level, Krissy said, will be ready very soon.