DOWNLOAD NOW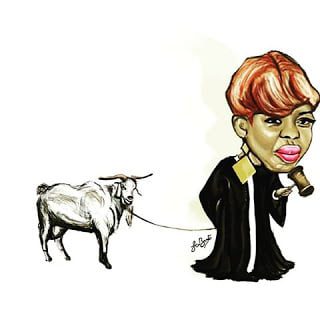 JOIN BLISSGH TELEGRAM CHANNEL!
Afia Schwarzenegger (cartoon)
TV/ radio personality Valentina Nana Agyeiwaa, popularly called Afia Schwarzenegger has taken a swipe at the Judges who were caught on Anas Amereyaw Anas' camera taking bribe in their line of duty.
Afia Schwarzenegger
Afia who was heartbroken after watching the three-hour video footage of the Judicial bribery scandal at the Accra International Conference Center described the situation as disgusting and embarrassing.
She wrote on her Facebook wall:
"God richly bless u Anas Aremeyaw Anas… All our leaders must bow in shame….it is quite embarrassing and disgusting to sell Justice for 300 ghc, goats, sex… In the case of judge Derry begging for goat instead of sheep, Ajet Nassam angry cos his balance delayed, Justice Quist abandoning sitting to chase bribe …aaaaahhhhh but do u blame the judges when all u see is a wretched court!!!! We will rather renovate parliament with Chinese chairs n nonsense instead of fixing our courts n keeping an eye on our judiciary system…If I have to work in that filthy environment, I guess respecting the rules of that company will be difficult…" – Afia Schwarzenegger wrote.
By: Kasapafmonline.com
Related News:
Bookmark BlissGh.com for your Latest Music Downloads and Promotions, Ghana Music | Nigerian Music | Jamaican Music | South African Music | Tanzanian Music | Gospel Songs | Classic Oldies Songs | Trending & Entertainment News | Music Videos | ALl in one Place ;) Just Log On!.
JOIN BLISSGH TELEGRAM CHANNEL! # All the songs,images,videos,etc. are the property of their respective owners. Blissgh.com is a promotional website, All the downloadable content provided on this site (All materials) is for testing/promotion purposes only. All files placed here are for introducing purpose. READ FULL DISCLAIMER