Finland applauds Ghanaians for being law abiding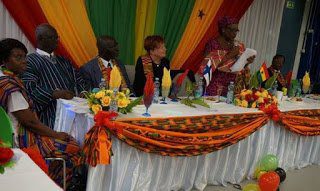 Ghanaians in Finland have been applauded by their host nation for been generally law abiding.
The commendation was relayed to Ghanaians resident there by Mrs. Edith Hazel, Ghana's Ambassador to Denmark at a belated 59th anniversary of Ghana's independence held in Helsinki.
Mrs. Edith who has a concurrent accreditation as ambassador to Finland, Sweden, Iceland and Norway further encouraged her compatriots to keep the good attitude that has earned them admiration from the Finnish society.

" I would like you to (continue to) live at peace with your host government," she advised them.
She further urged the Ghanaian community not to hesitate to offer suggestions and constructive criticisms that would enable her outfit to enhance the delivery of necessary services for their benefit.
She said her office is committed to the objective of ensuring an improved relationship between the government of Ghana and Finland in the area of economics and informational collaboration.
She therefore appealed to Ghanaians to consider the investment opportunities presented through the emerging collaboration.
Ambassador Edith however stressed on the need for Ghanaians to endeavor to remain tolerant on political issues without resorting to insults over issues they disagree on.
She urged her compatriots to learn the best practices of the Finnish society and share them with family and friends back home to enhance Ghana's development.
The anniversary which was organized by Ghana Union Finland, an association open to all Ghanaians living in Finland was also used to showcase the rich Ghanaian culture which included traditional dances and poetry recitals as well as orienting the younger generation to their heritage.
The president of the Ghana union, Mr. Mensah Abrampah commended the Ambassador for her effort in uniting Ghanaians in the Scandinavian region.
The ceremony was chaired by Dr. Ansah Bonsu and was attended by dignitaries including the Honorary Consul of Ghana in Finland Ms. Ulla Alanko who also commended the Ghanaian community and encouraged them to continue as good ambassadors of Ghana.