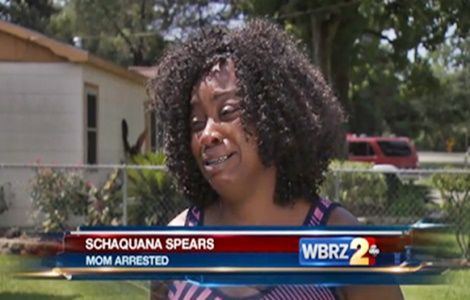 JOIN BlissGh TELEGRAM CHANEL!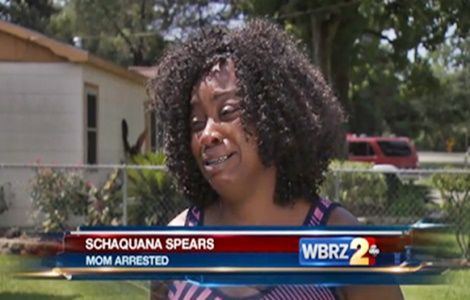 A mother is to face 20 years in prison for beating her sons who burglarized their neighbor's home. Schaquana Spears, 30, from Baton Rouge, Louisiana had found herself in trouble for beating for sons and now she is the centre of a US national debate for discipling her sons.
I was being a mother who loves her kids, who wants to protect her kids, and steer them in the right direction.
Schaquana ran home when she was informed by another neighbor that, her sons and their friends were seen carrying properties stolen from their other neighbor. Schaquana left work and got home to find her sons 13, 12,and 10 with the stolen properties. she whipped them with a belt and made them return the stolen properties.
According to police reports, her son, 13 year old was beaten with an electric chord but spears denied it and said it was belt, which caused visible marks. Her other sons also suffered visible injuries too.
The son reported his mother to the police, who immediately arrested spears for child abuse and took all of her six kids away. Her kids are 13, 12, 10,8,6 and 2 years old. She was bailed by a good samaritan who heard of the incident and her arrest. She is also represented by a lawyer pro-bono, who saw the viral video of her interview.
"I reacted and I'm the bad guy, it's not right." "I'd rather discipline my kids than for them to be beaten in the street, caught in someone's home murdered, or in someone's prison and me having to visit," Spears said.
Spears added that she is a good mum who sent all her children to great schools and they are all in honour rolls.
She said their father is in prison and she didn't want her children to end up there as well.
The Louisiana Department of Children and Family Services said:
reasonable, constructive discipline is a healthy part of parenting …but it crosses into abuse when it leaves a child cut, burned, bloody or bruised.
The state Attorney is looking into the case and the local district Attorney hasn't filed any charges yet. If charges are filed, Spears could face 20 years in prison.
Watch Video :

Source: peacefmonline