DOWNLOAD NOW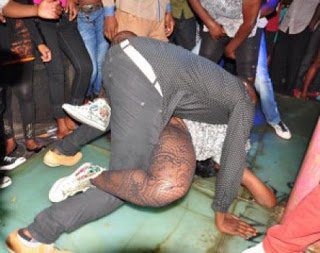 JOIN BLISSGH TELEGRAM CHANNEL!
Seems Uganda is a fun place to party for ratchets like me. While performing at a club Amnesia in Kampala last week, Amooti called a almost naked lady on stage and offered her a roll in the hay that night as the crowd watched.

According to Eyewitnesses, Amooti was performing his jokes and one involved sleeping on top of a woman.
The unclad lady was identified as Susan Taaka, but that's none of our business.
Anyway apparently is not the first time Amooti is doing such crazy things.
Source: Deracity
Related News:
Bookmark BlissGh.com for your Latest Music Downloads and Promotions, Ghana Music | Nigerian Music | Jamaican Music | South African Music | Tanzanian Music | Gospel Songs | Classic Oldies Songs | Trending & Entertainment News | Music Videos | ALl in one Place ;) Just Log On!.
JOIN BLISSGH TELEGRAM CHANNEL! # All the songs,images,videos,etc. are the property of their respective owners. Blissgh.com is a promotional website, All the downloadable content provided on this site (All materials) is for testing/promotion purposes only. All files placed here are for introducing purpose. READ FULL DISCLAIMER