Police Arrest 19-year-old who allegedly created 'fake' Facebook account with name of COP Yohuno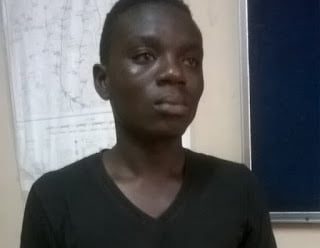 A 19-year-old junior high school dropout, who allegedly created a fake Facebook account in the name of the Director-General of Operations of the Ghana Police Service, Commissioner of Police (COP) Mr Christian Tetteh Yohuno, has been arrested.
The suspect, whose name was given by the police as Michael Asare, is said to be a resident of Agbozume in the Volta Region.
Briefing the Daily Graphic, the Director of the Cyber Crime Unit of the Ghana Police Service, Assistant Commissioner of Police (ACP) Mr Herbert Gustav Yankson, said police investigations had established that Asare used the fake identity to defraud four persons of about GH¢2,000.
Arrest
He said Asare had downloaded pictures of Mr Yohuno in police uniform in a cyber café at Agbozume in the Volta Region.
He said the suspect, who had earlier procured an unregistered MTN SIM card number 0555734476 from a vendor at Agbozume, used the number to create the fake account with the name "Christian Tetteh Yohuno" and uploaded two photographs of Mr Yohuno which he had downloaded as the profile and cover pictures.
Subsequently, Mr Yankson said Asare, through the fake Facebook account, received a number of friend requests from people who knew Mr Yohuno which he accepted and started communicating with some of them through Facebook.
He is said to have promised to assist some of his contacts to get enlisted in the Ghana Police Service.
Mr Yankson said Asare, through the fake identity, also sent messages to some friends of Mr Yohuno in Ghana and abroad indicating that he had been stranded abroad and needed financial assistance.
"He managed to defraud four victims to the tune of about GH¢2,000," Mr Yankson said and added that the police, on a tip-off, gathered intelligence which led to the arrest of Asare at a cyber café at Agbozume on Friday, March 4, 2016.
Mr Yankson said Asare admitted the offence and further stated that he had only made about GH¢2,000 from the scam.
He said efforts were underway to identify other victims suspected to have been defrauded by Asare investigation continued.
He said when Mr Yohuno was contacted, he said he never had an account on Facebook and that he had had information of someone using his name to defraud people through Facebook.
Source:graphic.com.gh