15-year old girl escapes ritual killing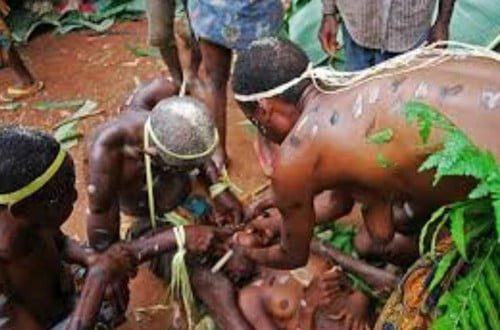 A fifteen-year old girl Joyce Nkrumah escaped death at Wasa Akropong a farming community in the Wasa-Amenfi East District of the Western Region as she was nearly abducted and killed for ritual purposes by unknown assailants.
Joyce according to her mother Esther Nkrumah was returning from church when she was seized by two unidentified men who covered her mouth with a white handkerchief and took her to an undisclosed location.
Esther claimed the men had lured the girl to where they were standing under the guise of giving her money to purchase something from a nearby provision shop only to execute their ill intended motive.
Narrating her ordeal to Ultimate News, the mother said she returned from work Monday evening to meet her daughter's absence only to be told later her daughter had gone to church for musical rehearsals.
"My daughter told me she went to the church and had to quickly head home because there was no one around and on her way back, she met two guys who were strangers in the neighborhood, they beckoned on her to run an errand for them", she revealed.
"Being the good girl that she is, she got closer in an attempt to take money for that purpose, but one of the guys instead of the money rather brought out a handkerchief from his pocket and sedated her. She was taken to an unknown place, where a very old man asked the guys to undress her. They realized she was menstruating and he asked them to take her back", she explained.
She indicated that she was later dumped at a local school close to her vicinity as directed by the leader of the ritualists who had told his colleagues she was not fit for the sacrifice because she was menstruating.
Her parents who reported the matter to the police on realizing she had gone missing, later spotted her helpless after being beaten to pulp by her assailants who all this while used her phone to notify whereabouts to the parents.