Amakye Dede not happy with Kofas new movie "Amakye & Dede" which stars Majid, Kalybos, John Dumelo…
DOWNLOAD NOW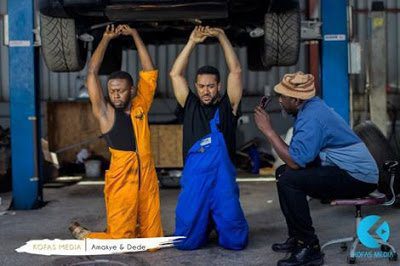 from left: kalybos, Maji Michel, John Dumelo
Information zionfelix.com is picking suggests that Ghanaian music legend, Amakye Dede is not happy about a new movie Kofas Media, producers of "Adventures of Kalybos" is currently shooting.
Amakye Dede is said to be complaining over the use of his name for the movie "Amakye & Dede" which production is currently underway.
According to the source, neither the two actors nor the producers of the movie have approached the musician to officially inform him about his name used as the movie title.
Zionfelix.com's informant continued that Amakye Dede is thinking of taking actions against them but did not state if it was going to be a court case.
Efforts to reach Amakye Dede on the issue have proved futile as calls made to him were not going through as at press time.

Source: Zionfelix.com
JOIN BLISSGH TELEGRAM CHANNEL!
# All the songs,images,videos,etc. are the property of their respective owners. Blissgh.com is a promotional website, All the downloadable content provided on this site (All materials) is for testing/promotion purposes only. All files placed here are for introducing purpose. READ FULL DISCLAIMER