My Children Call Me Kakai – June 3 Survivor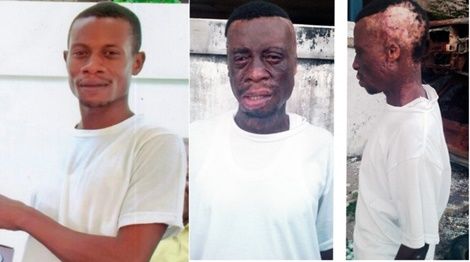 Like most of the people who were affected by the June 3 flood and fire disaster last year, 34-year-old Alex Mensah, popularly known as Mr Lee, had gone to the Goil filling station at the Kwame Nkrumah Circle to seek shelter from the rain on that fateful day.
Little did he know that fire and flood would soon engulf the very place he considered safe. Although Mr Lee was the only survivor among eight other colleagues who were also drivers at the Apaa-Wa Co-operative Transport Society, he is yet to recover from the disaster as he suffered severe burns on his legs, hands, face and eye.
He said after he was discharged from hospital, his three children disowned him and screamed each time they saw him because of the level of his deformity. "They will run away and say I am ''kakai'', he added. As a result of this, he had to relocate to his mother's house as his children would cry anytime they set eyes on him.
While thanking God for sparing his life, he admitted that life after the accident has been difficult as he is now unable to work because of his condition and has become a liability to his family. To make matters worse, his wife, who sold food near the interchange, had to quit selling after they were sacked to make way for the construction.
He said he was now living on the charity of friends and his 67-year-old mother. Added to his woes, the accident has affected his eyes and he has to go to the 37 Military Hospital every week for review.
"At the moment, I am being asked to buy some medicine for the eye but unfortunately, times are hard for me and I am unable to buy them. I am not working and my wife too is not working, our three children have been forced out of school because we cannot afford their fees and the other daily expenses on them," he said.
Failed promises
Alex Mensah noted that while on admission at the 37 Military Hospital after the accident, many top government officials visited him and other victims of the accident and promised to help them rebuild their lives as soon as they were discharged.
Though he admitted that his medical bills were settled by the government and the Accra Metropolitan Assembly (AMA), Mensah said after he was discharged from hospital, he had gone to the AMA several times with the hope of getting some form of assistance, but to no avail.
"Anytime I go to the AMA office, they tell me to hold on and promise they will call me but I never hear from them. After many fruitless attempts to and fro, I lost interest and decided not go there at all because I can't continue wasting my little money to board trotro without getting something concrete," the obviously disappointed Mensah said.
Disappointed family members
Meanwhile, Mr Frank Osei, a businessman, whose brother was one of the people who perished in the accident, says, the family has not received the money that was promised them by the AMA.
He said after the incident, they incurred a lot of cost, including hiring a car at the cost of GH¢1,200 which sent the remains of his brother to their hometown, Asokore Mampong, in the Ashanti Region.
To be a beneficiary of the AMA fund, the family was asked to get a burial permit which cost GH¢420 and a hospital card at GH¢ 65 from the Police Hospital in addition to other expenses.
"I have gone to the AMA office countless times but I haven't received anything. All the time, they would tell me they are still working on the documentation process. I have now realised they are lying to me and have decided not to follow up again.
"My brother left behind a child and I have decided to fend for the child, but what hurts me is the time I have wasted trying to get some money to compensate our family," he added.
Trauma beyond scars
Nana Osafo Ampaw, a herbalist, who also suffered severe burns on his head and face, also said he was yet to receive any money from the authorities as they were promised.
He explained that after he was discharged from the hospital, he started applying herbal medicine on his face and other parts of the body where he sustained injuries.
Fortunately for him, the herbal medicine healed his wound and subsequently cleared most of the scars on his head, face and hands.
Nana Osafo said because his wounds healed quickly, most people assumed he was fit and did not need any form of support.
"While on the hospital bed, several promises were made to us by the people who visited us and till date, none of those promises have been fulfilled. Although I do not have scars on my body, the infections from swallowing dirty oil water for over two hours has affected me.The trauma I went through alone is enough to kill anyone, so it would be very unfair to judge the depth of damage based on what you see on the outside,' he stated.
"I live at Kwahu and since I was discharged from hospital last year, I have made several visits to both the AMA and NADMO offices but there is no better response. Sometimes, some of the feedbacks we get from these places are insulting."
Nana Osafo said if the authorities had nothing to offer, they should tell them instead of giving them false hopes.
Life after the disaster
However, Mr Andy Best, Chief Porter at the Apaa-Wa Co-operative Transport Society, who was part of the rescue team during the disaster, said a lot of people still feared to come near the place, especially when there were signs of rain.
"Just a couple of days ago, when it started drizzling, people started running from the place. We used to work 24/7 but after the incident, by 10-11p.m., the place becomes dead because people fear to come here.
Honest Chef, a restaurant situated close to the Goil filling station that went in flames, is still counting its losses a year down the lane.
Operators of the restaurant say sales have dipped following the disaster because the restaurant is forced to close earlier than usual since people do not spend long hours deep into the night as was the norm.
"We have two shifts, some come in the morning and close at 5:00 p.m. while others come and continue till daybreak but now, by 10:00-10:30, the place becomes deserted and it is really affecting our business,' a worker at the restaurant told The Mirror.
She revealed that two of their workers were involved in the accident but luckily for them, they all survived.
She, however, said promises by the government and the AMA to refurbish the place were not fulfilled.
"My manager made many fruitless attempts to get some help but nothing came out of that. He had to get this place working again out of his own sweat," she added.
Sex workers
The recent fire outbreak at the Vienna City Night Club at Circle, which is directly opposite the disaster spot, has also worsened the fear and panic as people perceive the area as a disaster-prone area. The Goil filling station served as a safe haven for commercial sex workers at the Kwame Nkrumah Circle due to its proximity to the Vienna City, a popular night club.
There were reports that some of the sex workers perished in the inferno. According to Mr Best , some of the sex workers had moved to the railways area because of fear of the June 3 disaster and the recent fire at Vienna City.
He said there were others who were also not perturbed by the June 3 disaster and the recent fire at Vienna City, so they went about their business normally. Some friends and family members, who lost their relatives through the disaster, will have memorial services for their departed relatives today.
The Apaa-Wa Co-operative Transport Society will also have a joint memorial service for eight of their members who perished in the disaster and also try to raise funds for Mr Lee.
There would also be non-denominational church service at the Ernest Bruce Methodist Church at Adabraka followed by a wreath-laying ceremony in honour of all the departed.
When contacted the Chief Executive Officer of the AMA, Mr Alfred Okoe Vanderpuije, said the Assembly was still paying compensations to families of victims of the disaster.
By last Wednesday, a total of 71 familes had been paid an amount of GH¢10,000 each.