OMG!, Prez. Mahama hooted at in Kumasi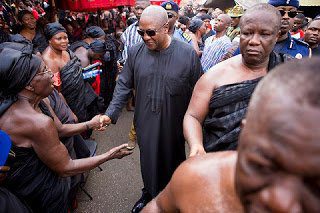 Some mourners that thronged the funeral of the late Bantamahene, Baffour Asare Owusu Amankwatiah V reportedly hooted at the President, John Dramani Mahama and his entourage at the funeral grounds.
According to Nhyira FM's Ruthy Danielson, who was at the funeral grounds, the mourners – clad in black and carried the flag of the NPP – started hooting at the President after the arrival of the New Patriotic Party (NPP) flagbearer, Nana Akufo-Addo at the funeral grounds.
The mourners, she said claimed President Mahama declared President Mahama a persona non-grata at the funeral grounds as according to them, the President had previously spoken ill of the people of Kumasi.
"What are you doing, you claim we are ungrateful beings who would never appreciate whatever you do for us, even if you tar our roads with gold, we would never appreciate your efforts, so what are you doing here….," Ruthy quoted some of the angry mourners as saying to the President.
The situation, she said, led to a petty scuffle between security forces guarding the President and the mourners.
A combined team of police and military men at the venue intervened to restore calm.
Some Chiefs at the funeral grounds were said to have been angry at the unfortunate incident.
President John Mahama was at the funeral as the guest of the Asantehene, Otumfuo Osei Tutu II who was mourning his late chief warlord.
The President was accompanied to the funeral grounds by some members of his administration and other functionaries of the NDC party.
Source:admofmonline.com