Rockstone is not originator of Hiplife – Sidney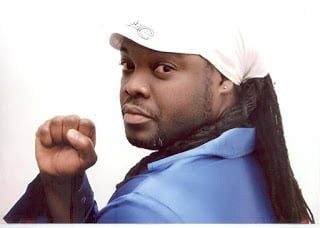 Hiplife star, Barima Sidney, is not the type to shy away from controversy, often producing hit songs laced with political undertones.

This time, however, he has turned the gun on veteran hiplife star, Reggie Rockstone, debunking the notion that the self-acclaimed Hiplife Grand Papa is the originator of the music genre.
It's been a long held belief that the 50 something year-old Rockstone, currrently of the group VVIP is the originator of Hiplife, but Sidney has dared to pull the trigger over what he told Showbiz was a "distorted history" and is ready to set the records straight.
Perhaps, we have entered an era of setting records straight concerning the true history of Ghanaian music. And Sidney's challenge of what is regarded as Rockstones legacy comes just a week after radio presenter and musician, Quophi Okyeame, of defunct group, Akyeame, engaged in a similar banter with Rockstone over Sarkodie's History In The Making concert at the Apollo Theatre, in which he challenged claims that Sarkodie is the first Ghanaian to perform in New York's iconic amphitheatre.
In a no-holds-barred interview with Showbiz, Sidney, whose musical journey commenced with the defunct group, Nananom, says Rockstone must stop holding himself as the originator of Hiplife since he and other musicians had already started a trend the Hiplife Grand Papa helped develop further.
"Yes, the history of hiplife has been distorted and there are many people, especially the new generation, who have been misled for many years.
Some of us have been very quiet for long and it's time to straighten some of these crooked stories for the benefit of all," Sidney told Showbiz on Tuesday.
Giving his account of the origin of hiplife, Sidney, who together with Jyoti and Omanhene Pozo formed the trio named, Nananom, said before Rockstone came on the scene, there had been other artistes and groups who had held the forte for many years.
"Before Reggie came down to Ghana, there were groups such as the Native Funk Lords (NFL) which had Eddy Blay Jnr and myself as members and the Taboo group.
Azigiza Jnr. and the likes of General Marcus were all doing rap music before Reggie came down in 1994 during the annual Panafest. "It took Reggie two years to release his Maka Maka album in 1996 which featured Nananom's Panyin Na Obenye bi da.
"The only good thing Reggie did was to record an album which none of us had done and that is where the whole trouble started. "I want Reggie to come out and tell the whole of Ghana how the name Hiplife came about. Was he the originator?" queried Sidney.
According to the Apuskeleke hitmaker, he has no qualms with his "senior brother and cousin" but the records must be set right for generation yet to come to know the "untold story of Hiplife music".
He argued that Rockstone could not be credited for inventing Hiplife because his Maka Maka album never had any song that had the style or semblance of Hiplife.
"The evidence is even there for all to testify. Anyone who doubts what I'm saying can get a copy of the Maka Maka album. All the songs were strictly rap or hiphop or ragga and not hiplife.
"Hiplife was just a term we used to brand Ghana's kind of music and if we say hiplife is a blend of highlife and hiphop, then Reggie can't take the credit he is enjoying now.
"Reggie even says that after his generation came Obrafour but there were many groups and artistes before Obrafour even came on the scene. After the generation of Nananom and Reggie, came Akyeame and then the likes of Ex-Doe and Lord Kenya came. "Obrafour belonged to a different generation and these are some of the facts being distorted today," he recounted.
In a chat with Showbiz yesterday morning, Wednesday, August 19, Reggie Rockstone, the Grand Papa of Hiplife said, "I don't know where this is coming from but I don't think I have ever said I invented rap music in Ghana.
" Yes others were already doing rap but I was the first to rap in Twi and the first time Hiplife was coined was in my song, Tsooboi. Hiplife can either be rapping in Twi or rapping in English over a highlife beat, that is the definition.
" There is so much evidence and those who want the truth can search for it. I don't need to prove to anyone because this is something I worked hard for and he, Sidney, is a beneficiary.
"I feel very disappointed especially because this is coming from my own cousin who was featured on my first album.
I don't need to trade words with him in public over something that I had worked for all these years. Ghanaians must be the judge," he stated.
Source: graphic.com.gh