Stop using 'Brother Brother' as your campaign song – Kdei Camp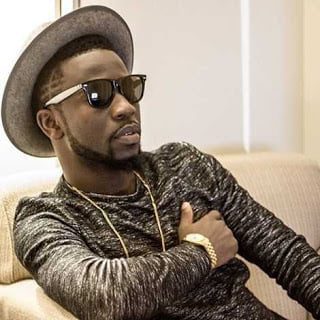 It's an election year and already, the political scene is heated up with various political songs intended to attract voters. One such song that is currently making waves is Bukom Banku's version of Bisa Kdei's Brother Brother.
A popular highlife tune which enjoyed huge patronage in the year under review, Brother Brother's lyrics has been on the lips of everyone and Bukom Banku's rendition is surely a smart move to get attention to his favourite presidential candidate, John Dramani Mahama.
It, however, appears the management of Bisa Kdei isn't pleased with the development. In an interview with Showbiz on Tuesday, Mr Emmanuel Arhin, a member of Kdei's management team and his publicist who spoke on behalf of the Mansa hitmaker warned such "defaulters" to desist from the practice.
"Please, we don't want anyone to push us into their politics. This is not our mission for our artiste whose music is being enjoyed and supported by people from the various political divide. We want to state that no one has been given permission to use Kdei's song for their campaign and we are not behind this new development.
"It's understandable that the song is that popular and as such, will attract people but it's only legal to seek the permission of the owner of the intellectual property being used to champion your interest," he stated.
Interestingly, Bukom Banku isn't the only one guilty of the "crime". Another citizen has done his version of the song to promote the Presidential candidate of the New Patriotic Party (NPP), Nana Addo Dankwa Akufo Addo.
The trend, according to Mr Arhin, is quite worrying.
"As a management team, we are yet to take a decision. I think this is unethical and people shouldn't be encouraged to live on the sweat of others.
"Bisa Kdei is at the peak of his career and the last thing we as a team would want to push our client to do is to endorse a political party or candidate. He's always said that he has no political affiliation and has every right to do so just as those who want to openly declare their political stance," he stated.
Celebrities endorsing political parties and candidates have been a regular feature in the country's elections but it seems the act isn't one that is appealing to Bisa Kdei.
When asked if "sorted out well" by any of the political parties to campaign for them, Bisa would heed to the call, this is what he had to say "Kdei is a brand we have built to appeal to all people irrespective of the political or social background.
"This is not the time to divide his fan base because of his support for one against the others. Kdei will use his platform to promote unity and political tolerance".
Currently on a tour in the US, Kdei was one of the big winners at the recently held Vodafone Ghana Music Awards (VGMAs) where he "bagged" four awards – Best highlife song, Highlife artiste of the Year, Most Popular song and Album of the year Award.
Prior to that, he had been a recipient of the Best Movie soundtrack of the year at the Ghana Movie Awards in 2012 and the Akoben Movie Awards in the same year.

© :Source: Graphic Showbiz